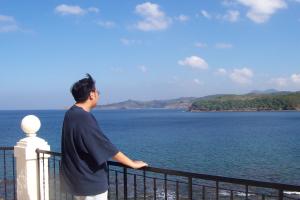 This is the photo I decided to put on the front page of http://roytang.net while I wasn't sure yet what to put there.
We were at Punta Fuego in Batangas last Jan 30-31 for our coincidentally-coinciding-with-the-HK-Chinese-New Year-weekend annual company outing. Those who know me in person might be aware that I'm not really big on out-of-town trips. In short order, the reasons are: being antisocial, tendency to get tired/dizzy on long trips, and not particularly liking seafood.
I suppose it was okay, although I still had a lot of time being bored out of my wits as expected. Managed to get in the water some, and I have the admit the Batangas air was very refreshing.
You get thirsty fast inside the resort though -- mineral water was an expensive P55 a pop inside the resort, and there was no other free water. Bad news for someone like me who is used to drinking a lot of water.
I had to endure ten hours without a decent meal on the trip home though. It was not a good idea to have an early brunch before embarking on a journey that would eventually end in rush-hour metro manila.
I suppose that it may have been a good change of pace for me...