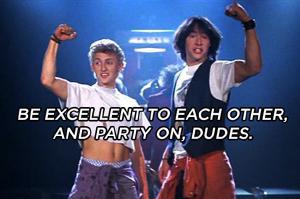 The quote is from the 1980s cult classic Bill and Ted's Excellent Adventure. I didn't include this movie in my top 10 movies post, but it and the sequel Bill and Ted's Bogus Journey are still among my childhood faves. These wise words are give by the Wyld Stallyns band composed of the epnoymous Bill and Ted, and form the philosophical basis of the future utopian civilization inspired by their music.
I like this quote because it's simple and comprises two principles:
be good to other people
enjoy life
Really, what more is there? And maybe I'm reading too much into it, but it has a profound kind of balance too: each principle holds the other in check: you should enjoy life, but not by hurting other people; and you should help other people, but not to your own detriment.
(A third movie, Bill and Ted Face the Music has been greenlighted and might come as soon as end of 2019!)