Here's the situation: It's game 3 of a sealed game. You know your opponent has Mind Control, Aether Adept and Plummet still in his deck, so you should finish it quickly to avoid losing to topdecks.
The field is as shown (click for larger view):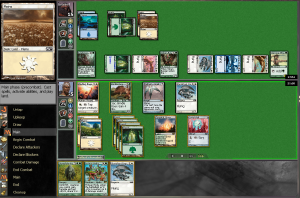 If you Stampede and swing with everyone, you win! Unless he has Condemn, in which case you will lose. You never saw Condemn in previous games. If you swing with everyone except Platinum Angel he will fall to one life and you have to find a way to push through the extra damage later.
What's the correct play?