It's the last week of May (more or less), and I'm mostly looking forward to a new month because I'm tired of ridiculous summer heat and I'm hoping the sun tones it down a bit in June. The one aircon we have in the house has been busted all summer, so we have been suffering through the heat and surviving mostly through stacking multiple fans and also an excessive number of showers.
A quote
"We must be willing to let go of the life we planned so as to have the life that is waiting for us." ― Joseph Campbell #
The world:
Links of interest:
From the archives, this week in history:
My stuff:
My Fitbit strap broke off yesterday morning. I immediately ordered a new one on Lazada before thinking "wait, I've only had this one for around half a year, that seems ridiculous". So I cancelled the order, and instead asked someone to help me apply a DIY fix. (I couldn't do it myself due to poor manual dexterity.)
Speaking of Fitbit, now that I'm fully vaccinated and the NCR case rates are going down again, I've resumed taking at least some of my walks outside our subdivision.
Still sketching, once again falling behind on the weekends. Briefly considered just breaking the streak and living with it, but no! The 365 counter is a commitment to doing at least a year of these! As today's sample, here's Batman getting vaccinated: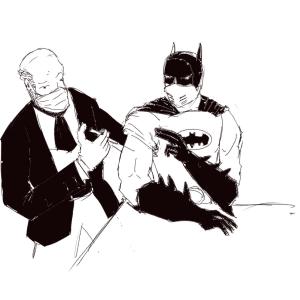 Watching:

Movies: This week I watched The Spy Who Loved Me (1977) and Mortal Kombat (2021). My James Bond run is now officially crossing over into the "movies released after I born" territory. I'm hoping I can somehow get through the rest of them before the latest one (No Time To Die) comes out.

Gaming:

Still playing a bunch of Horizon Zero Dawn on PS4 and Street Fighter V on Steam and Root with the regular Saturday group.
Still looking for a single-player game to play and stream on twitch when Arena limited is off season, so that I'm not only doing Arena streams for a while.

Reading: I finished What Matters Now, compiled by Seth Godin, a quick and easy read. After that, I decided to delve into some Agatha Christie.
Had quiz night last night, but we didn't do particularly well, about the same as the previous week. There is another online quiz night announced and scheduled for next week, by a different group, with topics that we like, but we are hesitant because they have an increased entry fee which is supposed to contribute to a prize pool. Doing online trivia for charity or just for fun has been okay, but I'm not really comfortable competing for cash prizes, given that it's all done online and it's not easy to police whether the participants are googling or have a whole army sitting behind them or such. That's also true even if there weren't a prize, but having the prize just gives a lot more incentive for it.
Speaking of trivia for fun, this past week I migrated the triviastorm site back-end code in order to merge it with this site's backend. The motivation for this was to resolve some memory issues on my cheap DigitalOcean droplet; basically running two Django instances meant I was using twice as much memory as necessary. After merging the backends, I replaced the front end of the triviastorm site with a new VueJS-based static site. I've been meaning to write a blog post about VueJS as well, and dipping my toes into it again helped me solidify some thoughts, will probably do sometimes this coming week.
This coming week:
Modern Horizons 2 spoilers (not that I expect to be playing Modern any time soon)