Today is father's day. If you're lucky enough to have a good father in your life, be sure to show your appreciation. Today's weeknotes are shorter than usual for some reason.
A quote
"My goal is to build a life I don't need a vacation from." - Rob Hill Sr.
The world:
The International Criminal Court is proceeding with a probe into Duterte's drug war. The admin is all like "ha ha we don't care, you have no basis, we won't cooperate, etc etc", but despite the posturing, it kind of feels like they're a bit scared.
On the pandemic front, NCR is now on GCQ "with less restrictions" mode or whatever it is they're calling it this week. NCR cases are going down (but still a lot), but cases in Visayas and Mindanao are on the rise. Davao in particular is a hotspot, and coincidentally, it looks the bulk of what little Pfizer we had is going there too. Luckily, just today the government announced they've sealed a deal for 40M more Pfizer doses; hopefully they arrive in a timely manner as that should greatly help with vaccine hesitancy.
In comic book news, Batman got into a bit of controversy this week when DC apparently claims there are certain things he just can't do. Zack Snyder tried to get in on the fun but nobody knows where he got that image.
Links of interest:
I don't have anything for this section today. Visit the Links page for older links of interest.
From the archives, this week in history:
My stuff:
Seems like I had a relatively chill / relaxed week, which is good because last week was a bit stressful. I did have a bunch of family errands and escort missions to do, but nothing too major.
Still sketching; this week, I had fun drawing Spider-man villain Sandman playing around in a sandcastle: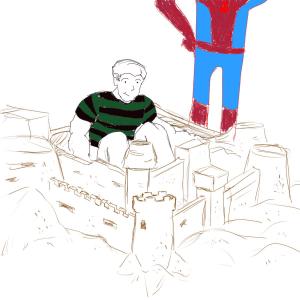 Watching:

Movies: Only one movie again this week, continuing the James Bond run: Octopussy (1983). Only one more Moore to go! I also wanted to watch Rurouni Kenshin: The Final, which came out on PH Netflix last Friday, but haven't found the time yet.
My regular background watching this week was seasons 2 and 3 of Schitt's Creek, and I'm already halfway through season 4 now.
This week's episode of Loki felt a bit meh and mostly setup, but I must admit I am enjoying Owen Wilson's performance and his back-and-forth with Tom Hiddleston.

Gaming:

Spent the week clearing up all the pending non-main quest stuff in Horizon Zero Dawn on PS4, including the hunting trials and all the collectibles. I believe only main quest and ancient armory remain. Still have yet to do any Frozen Wilds content though.
Regular Saturday group played some Root and Blood Rage this weekend.
Been playing Guilty Gear Strive on a regular basis during weeknights. I'm trying to get through all the missions since GGS is fairly complicated with a lot of systems and mechanics, and the missions are very good as a tutorial. I typically do a few missions per night then play around 9 games online (3 sets vs 3 different opponents). I am not very good at the game, but I am having fun, and I really like how it's much easier to find matches compared to SFV.

Reading: Still reading: Linchpin by Seth Godin.
Trivia team got second place in this week's comedy-themed About Quiz.
Got some positive feedback this week on some stuff I've done, in a couple of different realms. Positive feedback is always great, tell people if you enjoy their work!
This coming week:
New Loki episode this wednesday!
New Rick and Morty season beings this week
Two quiz nights this coming week!