It's almost July, which means 2021 is just about halfway done, and yet here we still are in pandemic mode.
A quote
"Each year that passes rings you inwardly with memory and might. Wield your heart, and the world will tremble." - Doran the Siege Tower
The world:
Links of interest:
Visit the Links page for more links of interest.
From the archives, this week in history:
My stuff:
Still sketching; this week, I really liked my rendition of The Human Torch: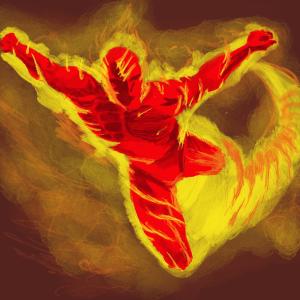 Watching:
Gaming:

Finally finished the main game of Horizon Zero Dawn on PS4! I was thinking of taking a break from the game afterwards, since I've been playing it for like 2 months now, but a friend insisted I do the Frozen Wilds DLC (I assume because it's good?!?) so I might do that and maybe also attempt a Platinum run?
Still playing Guilty Gear Strive during weeknights and generally being a scrub online. At least I'm using a second character now!
Regular Saturday group played some Root and Blood Rage this weekend.
Steam Sale is ongoing right now, but my discipline is holding and no damage so far, though I am considering Hades and some other small games

Reading: Still reading: Linchpin by Seth Godin.
Trivia team got third place in this week's comedy-themed About Quiz and third place overall for the current season. Could be better!
This coming week:
New Loki, Rick and Morty, etc episodes.
Had a few more family errands and escort missions to do this week, and probably a few more in the weeks to come. Kind of disruptive to the daily rhythms, but it is what it is.