A quote
"There is nothing noble in being superior to your fellow man; true nobility is being superior to your former self." – Ernest Hemingway
The world:
Links of interest:
Visit the Links page for more links of interest.
From the archives, this week in history:
My stuff:
As of last Thursday, everyone in the household has received their second vaccine dose. Hooray!
After my recent fitbit strap troubles I had a new problem with it: the charger stopped working! Wasn't really a surprise, since I've been having trouble with it for the past few months. I just immediately ordered a new one, these are way cheaper than a new strap. I did lose a couple of days of Fitbit data before it came in though.
After struggling through the terrible summer heat, we finally decided to get our one airconditioner in the house repaired, just in time for the onset of the rainy season. Oh well, at least I saved a lot on the electricity bill which has historically been very high in May!
Still sketching, though I spent most of the week catching up on sketch backlogs from the previous week. I caught up, but I'm a couple behind again today! Anyway, here's a memorial of that time Trump played with an orb: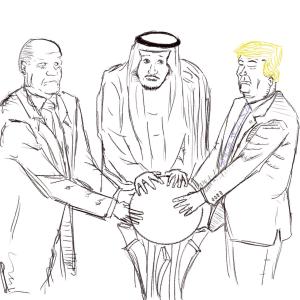 Watching:

Movies: Advanced my James Bond agenda a bit this past week by watching the very campy Moonraker (1979). I've now crossed over into "Bond movies released when I was alive" territory.
Only one movie this week, but I did also manage to binge the final season of Kim's Convenience and also have been running the new Jeopardy episodes on Netflix in the background while I do other stuff, am about halfway through them. Also managed to get caught up with Legends of Tomorrow, Supergirl and Flash. What's that, more episodes are coming?!?

Gaming:

Still playing a bunch of Horizon Zero Dawn on PS4 and Root with the regular Saturday group. I should pick up something new for playing on the PC maybe?
Tried to go for Master rank in Eternal at the end of the last month, failed miserably.

Reading: I finished another Agatha Christie book this past week. Not yet sure what to read next. Should probably transition into some nonfiction again?
Trivia team joined a sci-fi themed quiz this week but we only finished second. More interestingly, we recently got into doing the NYT crossword together. Here's a couple of videos. Like and subscribe to the Youtube channel!
Spent some time this weekend working on a personal project that I can't really talk about publicly. I am learning a lot though.
This coming week:
Loki starts on Disney+ on June 9
Guilty Gear Strive releases June 11! Still trying to convince myself to get it lol.
Trese is also out on Netflix this weekend. I'm not sure I'd watch it, but a lot of my friends are fans and are looking forward to it.
Am planning to join the GMTK Game Jam next weekend (Jun 11). Same as last time I have low expectations. I recently rewatched the video of the top games from last year's version of this jam and everything seems so great, hopefully I can come up with some innovative idea too!