These weeknotes are being published a day late, for reasons that will be discussed later.
A quote
"The price of being a sheep is boredom. The price of being a wolf is loneliness. Choose one or the other with great care." - Hugh MacLeod
The world:
Links of interest:
Visit the Links page for more links of interest.
From the archives, this week in history:
My stuff:
Okay, so the reason this post is delayed is because I did another game jam this weekend and only made the submission around 10pm last night so that kind of used up most of my weekend time. I'll do a separate post about the game jam sometime this week!
Still sketching, though I had to skip the past two days because of the game jam thingy, so I'm behind again, which isn't unusual. I did use up the free draw friday slot to draw the splash screen art for the game jam entry: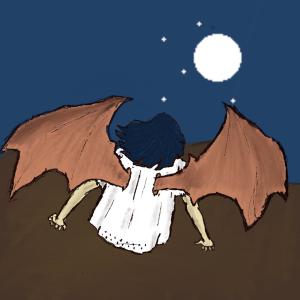 Watching:

Movies: Managed another James Bond film this week: For Your Eyes Only (1981). I think we're only a couple of films away from the end of Moore's tenure, then it's two Daltons, and finally the modern era (i.e. the ones where I actually caught some of them on film) of Pierce Brosnan
For my background watching during the game jam weekend, I watched the first season of Schitt's Creek, which I've heard good things about. The first season was ok, so I went ahead and queued up the next two season too.
Last Wednesday was the first episode of Loki! I enjoy this slow drip of MCU content, and the Timekeepers/TVA add a new aspect to the MCU's universe/multiverse. One can't help but think the multiversal status quo will be upset at the end of this series though, especially given some of the rumors about future films.
Last week I shared a video of Bo Burnham's "Welcome to the Internet" and this week I decided to watch his special "Inside" on Netflix, from where the song came from. It's pretty good, and probably took him forever to do.

Gaming:

I think I'm close to the end game in the main quest of Horizon Zero Dawn on PS4, but I'm spending some time cleaning up quests and collecting collectibles and such. Still playing Root with the regular Saturday group.
Last Friday I went ahead and purchased Guilty Gear Strive on Steam. Was only able to play a few games online before I had to do the game jam stuff, but at least I managed to win my first ranked match! I'm hoping to have this replace the daily Street Fighter games I used to do, except hopefully it's much easier to find matches since it's a new release. And of course, I'm hoping I actually get good at it.

Reading: I started reading Linchpin by Seth Godin which is a book from like 2008, and I've had a copy of it since forever.
Trivia team only got sixth place in last weekend's About Quiz, because we always do poorly when it's horror themed.
This coming week:
New Loki episode this wednesday!
It's E3 this past weekend and this week, I think, so there should be a lot of gaming news. Although given my massive gaming backlogs, I'm not often excited by new game announcements.