A quote:
"The important work of moving the world forward does not wait to be done by perfect men." - George Eliot
The world:
Links of interest:
Visit the Links page for more links of interest.
From the archives, this week in history:
My stuff:
had a couple more family escort missions this week, but those should be the last ones til August.
Still sketching; As is typical, I'm behind by a couple of days again. I liked this sketch I did of the Cantina band (or part of them at least):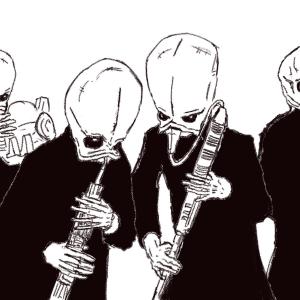 Watching:
Gaming:

Still playing Horizon Zero Dawn and Guilty Gear Strive regularly. Also decided to revive my Wasteland 2 save for some reason. Also woke up my Disgaea 4 (Vita) save game since I had to wait in a corridor for a while during an errand this week.
Still drafting the latest MTG set Adventures in the Forgotten Realms on Magic Arena, you can follow via the MTGAFR tag
Regular Saturday group played some Root and Blood Rage again, as usual.
Some friends got me into playing this web-based version of Advance Wars, which hopefully Nintendo takes a while to notice.

Reading: No books this week, mostly just comics. Yet again.
No online quiz night for the trivia team this week, we just indulged ourselves with the NY Times crossword and spelling bee again.
This coming week:
Huh no big events coming up, maybe I can actually get some stuff done.